JAN-13-2016
2017 F-150 Raptor, a full on race truck you can drive!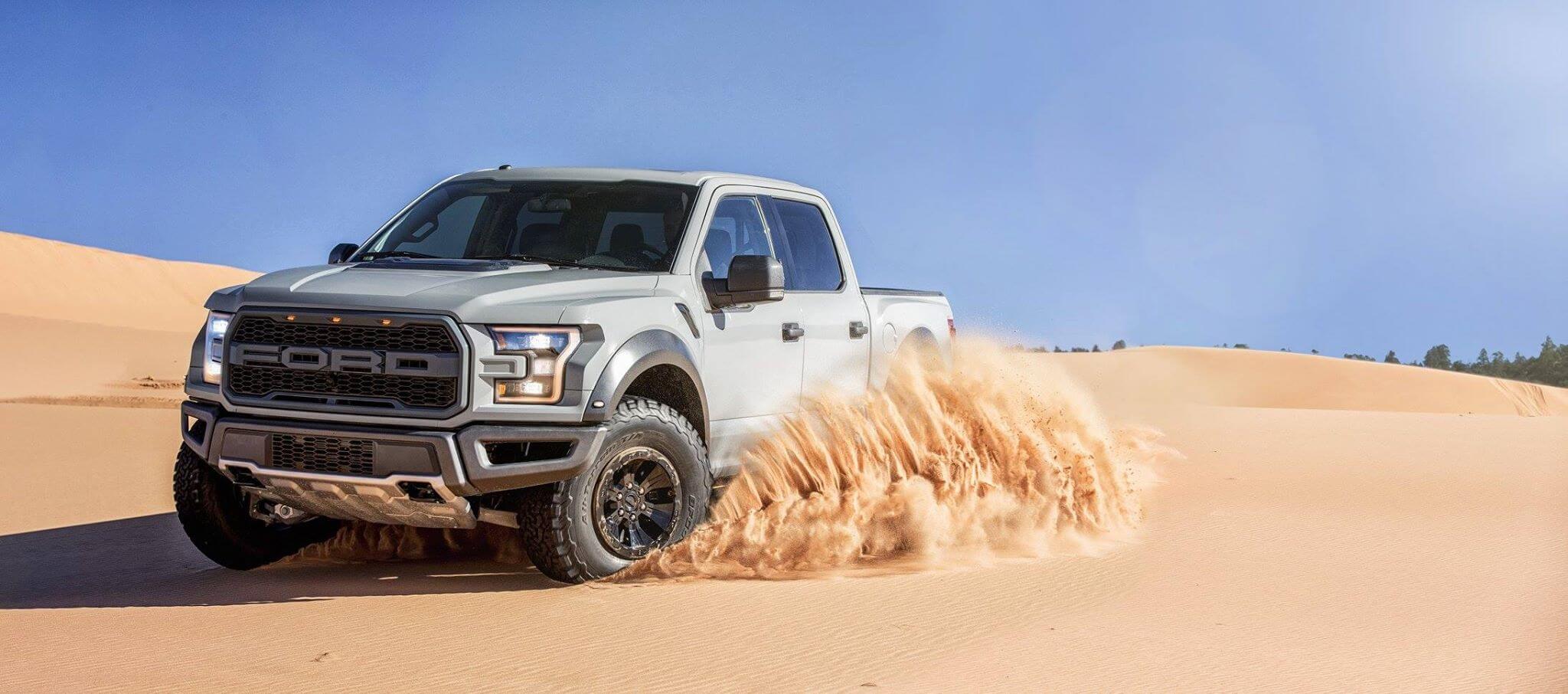 Truck fans across the country have eagerly awaited any bits of information about the next generation of Ford's off-road beast, the F-150 Raptor and this week the Blue Oval dished all the goods at the Detroit Auto Show! With a twin-turbo EcoBoosted 3.5L V6 putting out 450hp mated to a segment exclusive ten-speed automatic transmission and thirteen inches of suspension travel with huge twin-chamber Fox shocks to cushion the fall back to earth, the all new Raptor is sure to have waiting lines at many dealerships this fall!
From the Ford Press Release:
"DETROIT, Jan. 11, 2016 – Eagerly anticipated and still unmatched by any auto manufacturer,  Ford – America's truck leader – introduces the all-new F-150 Raptor SuperCrew, adding agility, versatility and roominess to the toughest, smartest, most capable F-150 Raptor ever.
Developed with the DNA of a Baja race truck, F-150 Raptor is unique among off-road and performance vehicles, with a purpose-built engine, chassis and suspension that enables it to travel fast over challenging desert landscapes or crawl over rocky terrain.
F-150 Raptor SuperCrew with four full-size doors provides rear passengers with more legroom and comfort on the trails and more space to stow gear while exploring the American and Canadian wilderness. SuperCrew's 145-inch wheelbase is 12 inches longer than the standard Raptor SuperCab 133-inch wheelbase.
"F-150 Raptor means superior off-road capability, from rock crawling to sand running," said Dave Pericak, Ford Performance global director. "With the addition of SuperCrew, F-150 Raptor customers can leave the pavement behind – without sacrificing comfort and space."
Advanced materials – including high-strength steel and high-strength, military grade, aluminum alloy – help save up to 500 pounds versus the prior Raptor for improved off-road prowess. Combined with all-new EcoBoost engine technology, the next-generation F-150 Raptor's power-to-weight ratio has been improved, making the truck even more agile off-road.
Toughest F-150 Raptor ever
The all-new F-150 Raptor starts with a purpose-built fully boxed frame – the backbone of the truck – that is the strongest in the F-150 lineup, featuring more high-strength steel than the outgoing Raptor.
F-150 Raptor's chiseled looks are reminiscent of Trophy Trucks – the fastest and most powerful class of off-road pickups. F-150 Raptor is 6 inches wider than standard F-150 for enhanced stability off-road.
The all-new F-150 Raptor also boasts its first-ever dual exhaust and new 17-inch wheels with next-generation BFGoodrich All-Terrain KO2 tires designed for off-road performance.
Highlights:
Roomier: All-new Ford F-150 Raptor SuperCrew adds room for passengers and gear, expanding choice and versatility in the toughest, smartest, most capable F-150 Raptor ever
More agile: Enhanced suspension, use of advanced materials, all-new EcoBoost engine technology plus smart engineering saves up to 500 pounds, for improved power-to-weight ratio for even better off-road agility than previous F-150 Raptor
Unmatched performance: All-new high-output 3.5-liter EcoBoost, all-new 10-speed transmission and torque-on-demand transfer case make F-150 Raptor even more powerful, efficient and easy to drive off-road
Better traction: Segment-exclusive redesigned beadlock-capable wheels help increase grip in low-traction conditions; unique Avalanche Grey color signifies Raptor's Ford Performance tie
Read the full post HERE:
 See the all-new 2017 F-150 Raptor first at Raceway Ford in Riverside, CA!