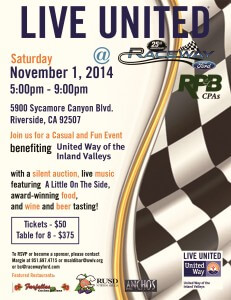 SAVE THE DATE!!! Saturday, November 1st join us for the first annual 'Live United @ Raceway Ford'! An evening of causal fun and fundraising benefiting United Way of the Inland Valleys with; a silent auction, live music by "A Little On The Side' and award-winning food provided by Riversides finest eateries! Beer and Wine Tasting for attendees as well! This event will also be the first fund raising event in the US that will be live broadcasting to mobile devices so people interested in pledging or just who would like to be a part of the festivities but are not able to attend in person can join us via their mobile device!
Spearheading this incredible event is our Vice President of Marketing Bill Chamberlain. When Mr Chamberlain joined the Raceway Ford Team just over a year ago he brought with him over 25 years of community involvement here in the Riverside area of the Inland Empire. In addition to leading the Commercial/Fleet Sales Team to record setting sales continuously he has helped the spearhead the Raceway Ford efforts in giving back to our surrounding communities more than ever before! Over the last 25 years of working in the automobile business in Riverside Bill has been an active member of the Greater Riverside Chambers of Commerce, serving on the board for many years. He has also been a proud Rotary Club member, and past President for 27 years in addition to serving on the Law Enforcement Appreciation Committee for 20 years! Just over 15 years ago Bill got involved with the West Coast Thunder project and is now the Vice President of this really awesome yearly fund raising event. Suffice to say Bill knows how to raise funds for great causes and his efforts caught the attention of the folks at the United Way of the Inland Valleys who asked him to join their board earlier this year and he is now the Community Development Chairperson for this great organization.
From the United Way of the Inland Valleys website:
"United Way of the Inland Valleys was formed in 1931 by community leaders for the purpose of making our region a  better place to live and to do business. The mechanism for doing this was to raise funds to support health and human services provided by United Way affiliated agencies through a single fund-raising campaign.
United Way of the Inland Valleys currently funds 46 local community partner agencies and 62 local programs. The majority of the funds for these programs comes from donations made by employees in the workplace through payroll giving and from committed members of the community making leadership gifts…."
Please consider joining Raceway Ford and the United Way of the Inland Valleys on this wonderful evening of fun and fundraising! Tickets available by seat or table, contact Bill Chamberlain at bc@racewayford.com or Margie at msaldibar@uwiv.org. See you there!
An evening of fun, and fundraising!
---