MAY-08-2018
Show & Go 2018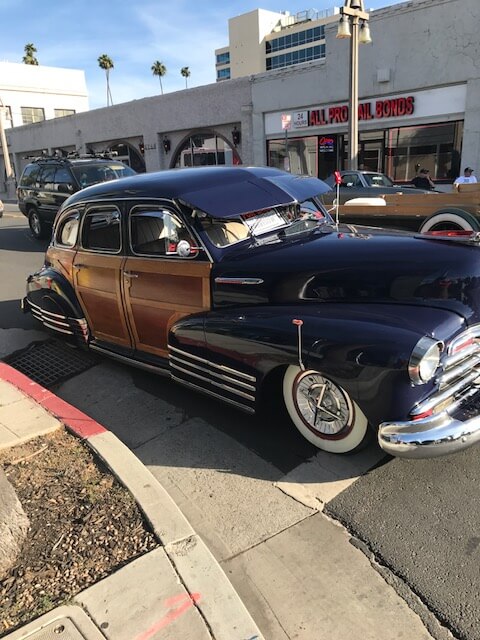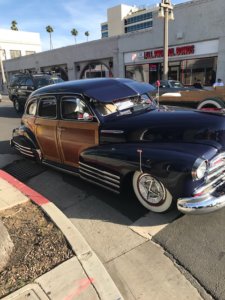 Here is a partial write up by Dave Bertino:
Friday night was setup as a freebee. If you like Friday night you would pay for Saturday and Sunday. It worked! It was a blast.
We came a long way from P.V.C. banner stands to bike rail. The first time we set up the P.V.C. stands and put the sponsor banners on them the wind came up and we had a hell of a rodeo. Everybody scrambled to lay them down before they hit any cars. They were like guideless sailboats going down the street. We acquired some sand bags off a job site at first and main to cure our problem and yes we returned them to their proper owner. We finally made the switch to bike rail. A lot better.
Saturday, Bill Wasson and crew judging and Old Farts monitoring cross walks. See, we did not have Teen Challenge when we started. We had 10 crews with 5 – 6 on a crew. We were very lucky to get Teen Challenge to monitor those cross walks.
A first trophy presentation was on the stage of Ninth and Main. That was before they opened Ninth Street to drive through. There was DJ Bob Cuthbert, Uncle Larry and myself on stage. George Mazzacane won the Best of Show and as he heard his name he was to drive up (well if you are a Hot Rodder you know shit happens) His 40 would not start but the good family that George has, they all pushed his car to the stage.
Friday closing off the streets. There were about 6 or 8 of us working with Bud Stone. It would take us about 1 hour to get the biggest part of the streets closed off. Today we have 20 people and we get those streets closed in 20 minutes.
I remember one Friday night R.C. was not feeling good so he told Uncle Larry & myself that he was going home and that we were in charge. (What could possibly go wrong?) Everything was going good until Riverside's finest R.P.D. said, this is your show and if you want Kenny Asche to do a burnout, have at it (do you remember the first part of this article about Rules?) So what could possibly go wrong to have Kenny do a burn out in the middle of the cruise route at Market & Fifth? Well, he did one of his signature figure 8's. It was bad ass. Now how do you put the toothpaste back in the tube? Every car that was in a 1/8 mile had to spin his tires. Larry and I looked at each other and said, did we do this? We both looked at the Riverside Finest that did not have a care in the world and we said you need to stop this. There was about 8 moto cops that drove down the street 2 at a time until they all stopped spinning their tires. The next morning R.C. was at the drags asking us what the hell happened last night? We blamed the cops.
There was a trophy presentation that we did on University & Market where I had a great idea, so I thought. Was going to have a Butt that would open up and as it opened a puff of smoke and a car would come out to receive their trophy. You might ask "why would you?" Answer is "Just because". Well, we could not find a Butt so we used a tent. We would close the tent with the car coming in from the back, charge it with smoke from two smoke machines as soon as the trophy winner's name was announced the front of the tent would open up the car would drive out in a plume of smoke. Does this sound like something that the old farts would do?
When the trophy presentation was over we would pick up all the barricades and delineators and head to the drag strip (Riverside Airport). Dave Barnekow and crew worked all day setting up the K Rail on both sides of the track then when we showed up we would set the 3 staging lanes. Fast 16, Pre 1948 and Post 1948. That made a long day. We would finish at 11:00 or 12:00 then back the next morning.
Sunday Morning Buck was the guy with the 1/8 mile timing lights, they were very out dated. R.C. made a comment that the squirrel died turning the wheel but Buck always made them work. I was able to get an announcer booth from Mobile Modular where Bruce Flanders & Lindsay Godfrey could see the whole track with air-conditioning. Bruce was the perfect announcer. Lindsay was sharp with the timing slips & brackets, see, her Dad is a drag racer. Dave Barnekow worked the starting line. Sometimes we would have a little down time so Danny (asshole) Hensley and I would race our Indian Motor bikes. Bruce would get the crowd going by saying who wants the Yellow Indian to win. The crowd would go wild. Then he'd say who wants the Red Indian to win the crowd would go wild. The Red Indian always won. One time we raced the Mayor of Riverside Ron Loveridge against the Mayor of San Bernardino Judith Valles. Henry Hemborg got us two Fords to race. We'd build it up pretty good. Well, Judith beat Ron and Ron complained that his car was not running right. Word has it that Judith's son-in-law Danny (asshole) Hensley took two plug wires off Ron's motor. Fun stuff. Over the years we have had many sponsors and great volunteers.
In 2004 R.C. joined the race track in the sky. We looked for someone to fill his shoes and the one we looked to was Mark Godfrey. Mark and Finn Comer have kept this show going. I do miss all those meetings and Old Farts in R.C.'s kitchen and those late nights setting up the drags. 20 years of great memories. See all of you at the show. For more info please visit https://www.showandgo.org/